Second Sunday - Creators and Makers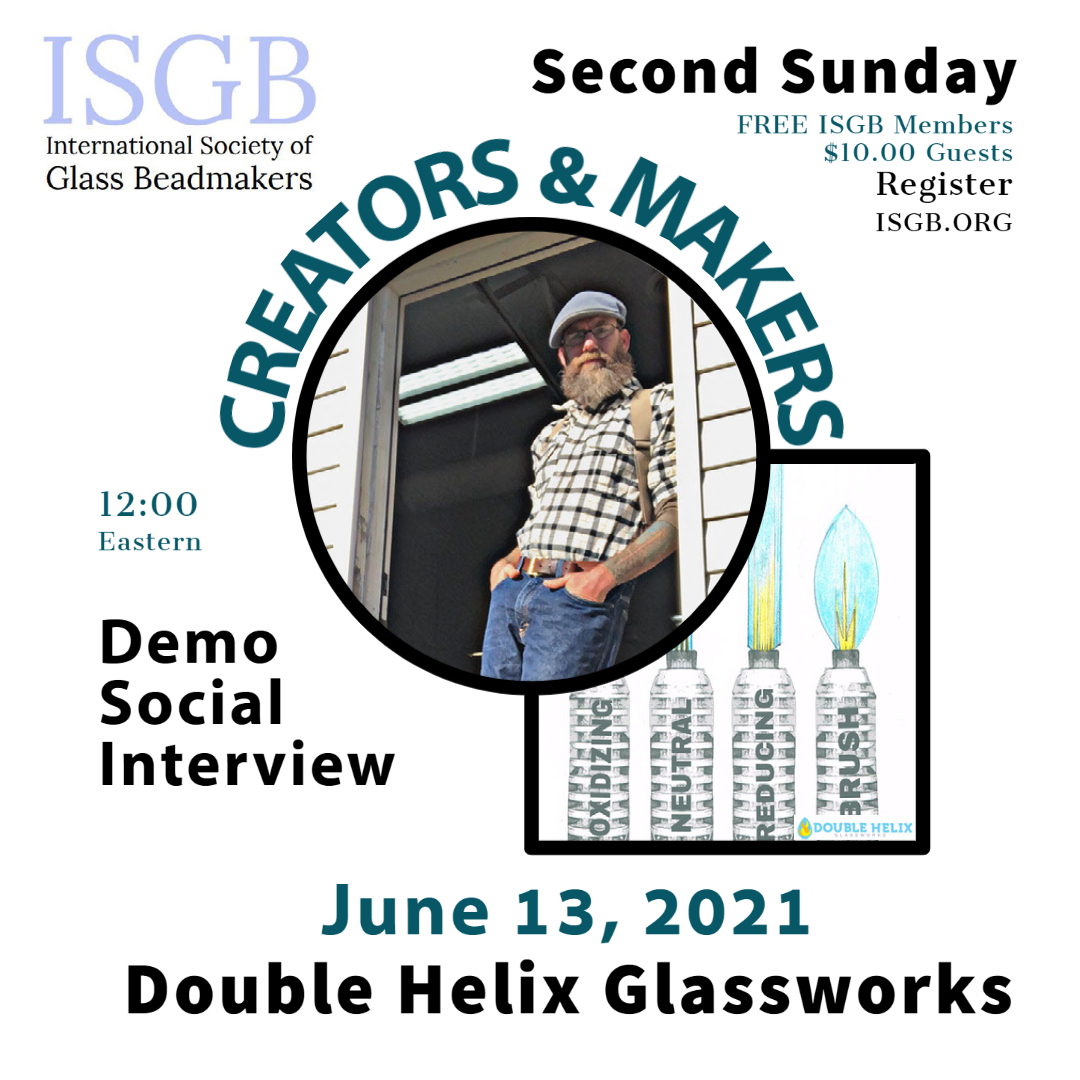 June 13, 2021  12:00 Eastern
Second Sunday- Creator and Makers series  
Join the ISGB as we have a fun conversation with Jed Hannay of Double Helix Glassworks
ISGB President Susan Richards will begin with an interview where we learn about our favorite reactive glass.
Jed will share a demonstration using the glass to get the best results.
Stay a little longer to hang out with old and new friends around the world for a coffee break social.
Join the ISGB and look for our upcoming Creator and Makers Series - The second Sunday of every month.
The series will return next September - June.
Registration is Open!
FREE for ISGB Members - $10.00 for guests
Registration Closes on Saturday 24 hours before the event.
Invitations are sent directly to the email you provided Saturday afternoon and Sunday Morning.
Registration is required.
Download the Zoom Cloud Meeting App ahead of time to your device. Available in the Apple Store or Google Play store.
Make sure your name is on your zoom account.  If your account is listed as iPad, Bills phone, et..you may not be let into the event.  We will contact you via chat to confirm your identity if it is not visible.
Invite with link and password to join the event will be sent via email on Saturday afternoon and Sunday morning. Please check your spam folder or contact us if you do not receive the link.
The ISGB looks forward to seeing you!
Join us the Second Sunday of each month where we meet and learn from the leaders in our industry.
Technical Assistance is available up to 30 minutes prior to the event.
Contact Karyn at operations@isgb.org.
Second Sunday - Creators and Makers
These events are scheduled to run September 2020 - June 2021.  The series will be released for viewing on a separate platform to accommodate ISGB members by June 2021. We hope you can join us live the second Sunday of each month to be part of the fun.
Another reason to join us!
Join us in a live event where we meet the leaders in the industry, ask questions, and learn together.
Hosted by Susan Richards, president of the ISGB
Introduction
Interview
Studio tour
Demo
Question & Answer
Socialize with new an old friends around the world.
September 2020- June 2021