ISGB Member Creativity Challenge
Call for Entries - Join the Challenge!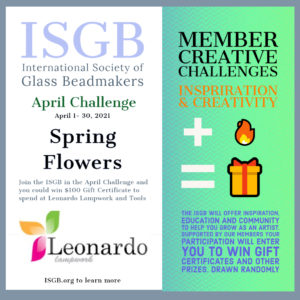 April 2021 Challenge - Spring Flowers
Your ISGB would like to invite you to "take the challenge".  This is a non-competitive challenge designed to help our members grow as artists. It isn't about making the perfect bead but is about experimentation and trying something new. Our hope is that it will help spark new creative energy.
A random drawing from all entries will determine the winner of the challenge prize, a $100 Gift Certificate from our sponsor, Leonardo Lampwork.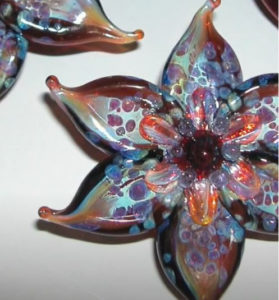 Flower by Karen Leonardo using her petal pressers
Thank you to our generous sponsor, the multi-talented Karen Leonardo, making the finest beads, tools & tutorials since 1993.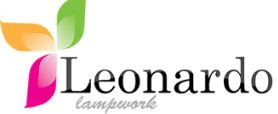 Chances are good that you could be the winner of $100 to spend at Leonardo Lampwork.
How to participate
The challenge is "Spring Flowers".  We are all ready to enjoy spring, and what a better way to celebrate than with your interpretation of spring flowers.  Include your reasons for your choices and an explanation of how you approached the challenge.  Send your statement along with one image of your bead or beads.
Submit your entry: Please send your photo, chapter affiliation (if applicable), and artist statement to membership@isgb.org.
The window for submission is April 1 - 30. 2021. The winner will be announced in the May Bead Release.
Prize: $100 Gift Certificate.  Gift certificate to be used at Leonardo Lampwork.