Autumn 2021 Creativity Challenge
Stronger Together - ISGB/Beads of Courage
This month we are inviting everyone to join us, let's be Stronger Together in helping the Beads of Courage reach their goal.  They are currently in need of beads of all types to support their program.
Create a minimum of 15 beads to donate to the Beads of Courage.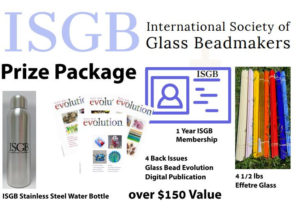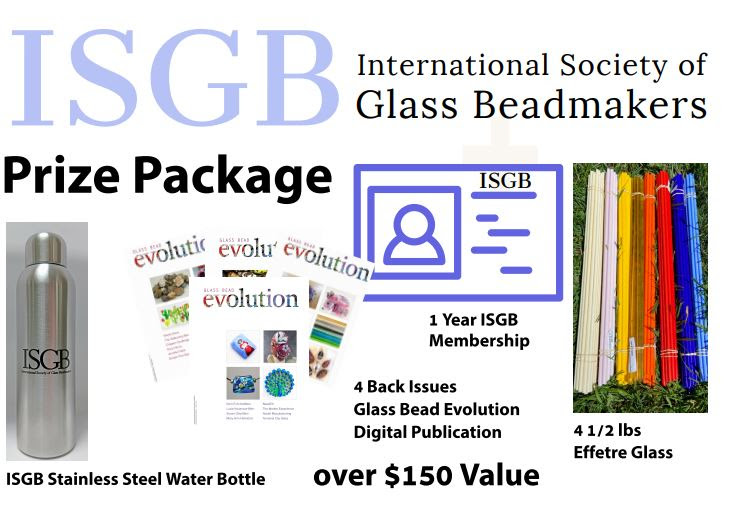 Artist Statement
Hi ISGB!  I'm so happy to participate In this challenge.  I recently (very recently) started making one or two beads for Beads of Courage each time I sat down at the torch, and I have a small supply of beads to donate.
When I began doing this, I thought about things that make me happy, and of course pizza and flip-flops came to mind.  Flip-flops are just happy shoes and pizza?  Well, there's nothing better than pizza…unless it's ice cream!  Maybe that will be next.
I'm donating 8 flip-flop beads and 10 slices of pizza!
Entry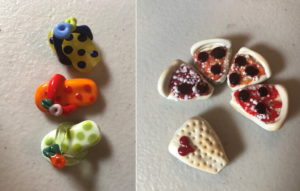 Artist Statement
I have prototype beads and marbles that are laying around my work studio that are nonetheless sweet and fun.  A child would enjoy them.  A sick child may actually take comfort in them.  I could go on about life's challenges but suffice it to say I understand what it's like to have a fragile, sick child.  If passing a few of my beads and marbles along to BOC brings a smile or provides a small measure of comfort to a sick child, why would I hesitate?  Thank you for the opportunity to help in some small way.
Entry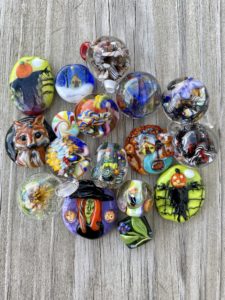 Artist Statement
This is my first challenge with ISGB and my first donation to Beads of Courage.
I am an ISGB member and belong to The Florida Glass Dragons.
I watched a tutorial on making dinosaurs for BOC on The Florida Glass Dragon website. I then made 12 dinosaurs, 1 unicorn, 1 horse, and 1 monster (for Halloween). It was great fun and I look forward to making and sending more to BOC.
Entry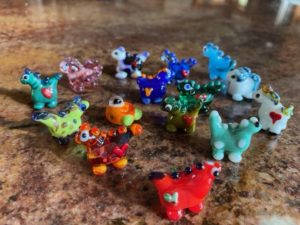 Artist Statement
Here is my entry for the Stronger together ISGB/Beads of Courage challenge.  I made 16 short barrel shaped beads in a variety of blues and aquas. Each bead has three sea creature murrini. I was always fascinated by the ocean and sea creatures as a kid and I hope the kids in the BOC programs enjoy them. Stephanie is a member of the Southern Flames Chapter.
Entry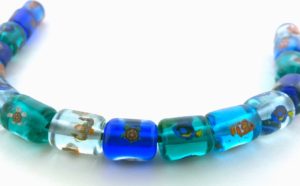 Artist Statement
With the holiday season just around the corner, I decided to treat the Beads of Courage children to one of my favorites - "Peppermint Candy." What made me think of them for this challenge is with my history of low blood sugar, I always keep these little candies on hand, in my car, my purse, etc., and use them as my sugar "pick-me-up." I thought these beads might bring comfort and a smile to the BOC children through the holiday season and serve as a "pick-me-up" wherever they may go. 
I am donating 20 of these beads and this is my first "Stronger Together - ISGB/Beads of Courage" challenge with ISGB.
I am an ISBG member and a member of The Glass Dragons.
Entry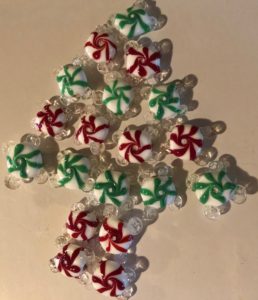 How to Enter the Challenge
Past Creativity Challenges