July 2020 Creativity Challenge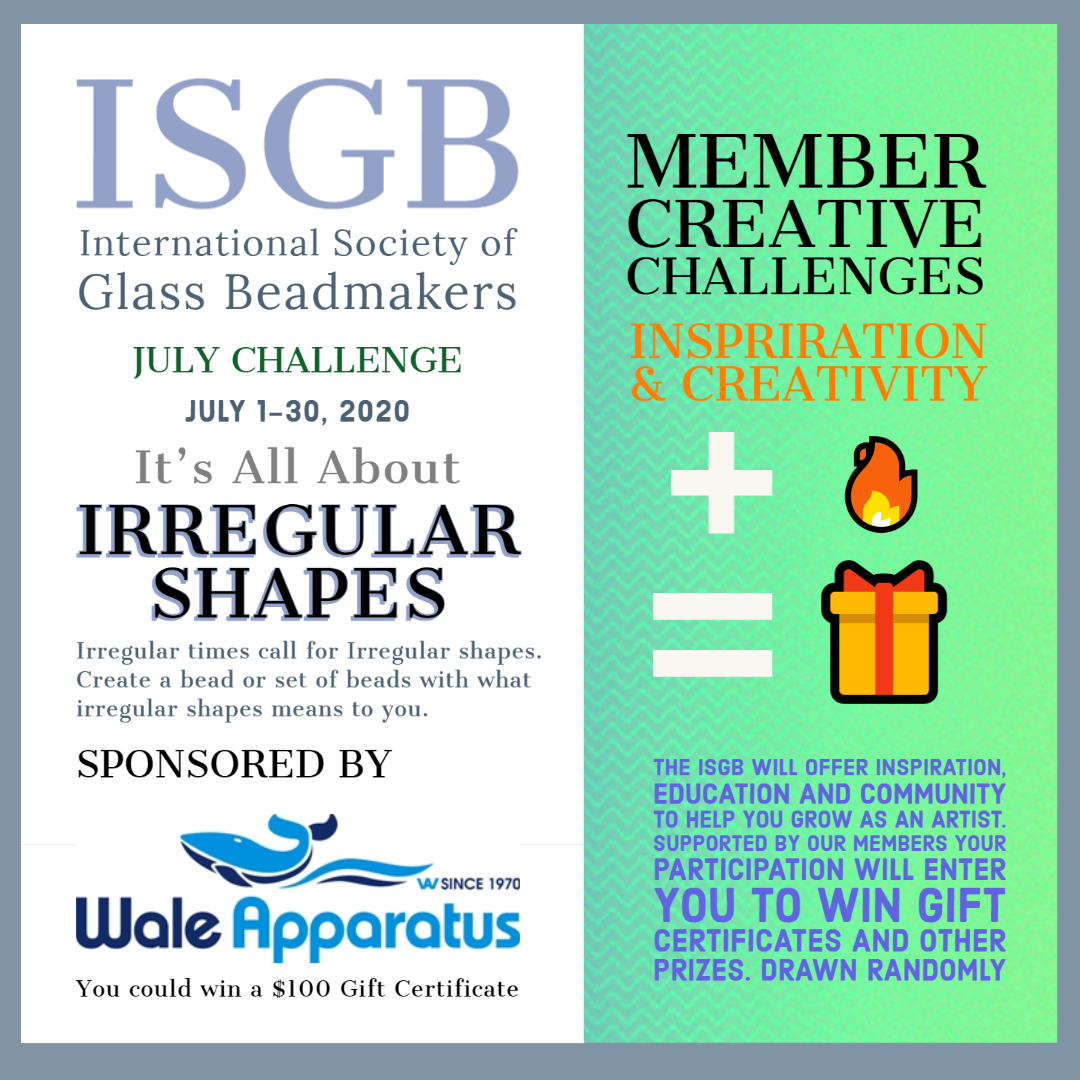 Irregular Times call for Irregular Shapes.
Create a bead or set of beads that show us your interpretation of irregular shapes.
Artist Statement
Dear friends of glass
Whether cubic, angular and round, whether large or small, I like the glass beads All. 
This time I was inspired by my coffee cups.
For these two glass beads I used opaque white and blue and in the middle of the square glass bead I put a murrini on all sides.
Pearly greetings
Entry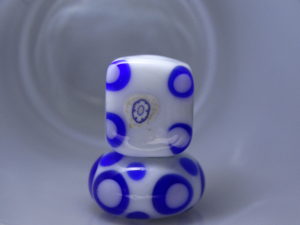 Artist Statement
I'm grateful for this new ISGB challenge.  I believe this type of proposal gives us a good chance to improve our skills and designs.
I had a huge brain storm and it took me a lot of hours to get my design to come alive.
Thinking on irregular forms allows me to focus on light, color and movement as the main aspect of my design.  I worked with Murano glass, my piece has  blown beads and twisted ones.
Then I assembled the beads in a silver/copper ring.
Entry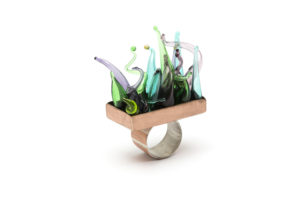 Artist Statement
To understand my thought process, it's easiest to have a glimpse of how my brain works, so says my husband.  So, description of a thing + first thought to enter my head + either instantly thinking of song lyrics or movie titles = end product. 
When thinking of irregular shapes, I instantly thought of nature, then water, then the movie "The Shape of Water" (even though I've never actually SEEN that movie).
In these crazy irregular times I've found myself taking many isolated mindfulness walks to keep myself grounded.  Living on an island most of my life I've always been drawn to the ocean to clear my mind and recharge my soul.  Even though I don't live on that island anymore my heart is still drawn there and to my favorite spot on the ocean shore watching the waves come in, dance on the sand and retreat back to the surf. 
This bead now resides in my garden catching the sun and reminding me of my island home.  I'll get back there someday.
Entry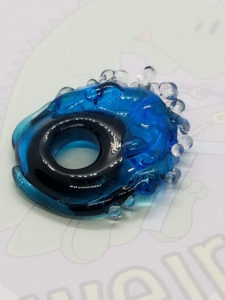 Artist Statement
I had been working on the technique for blowing perfectly round hollow beads since the start of quarantine.  This latest set is much more expressive of my current mood, and certainly more cathartic to create.  The Hulk inspired the colors as well as the impassioned smashing.  These squashed and pulled hollow irregular shapes represent "2020" much better than any perfectly planned and executed bead.
Entry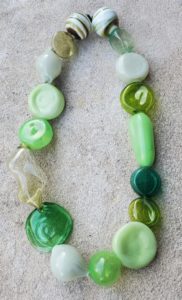 Artist Statement
Nature is all about movement and gentle curves. I want you to want to caress this blown vessel; to feel part of the liquid it holds. The fairy on the bottle top carefully holds a single cubic zirconia like a glistening tear. It's a bottle for fairies' tears.
Entry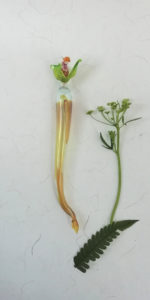 Artist Statement
I'd like to submit my glass jewel: THORNY necklace. This is an iconic creation that belongs to my IRONIC creations.
TECHNIQUE Blown glass and sandblasting
About me: 
I'm a researcher of forms; my creations have always been distinguished by this research, even in the period when I was training, during my studies, stages or workshops.
What I've found in glass and the glass blowing technique is the ideal and proper means to push this personal research forward.
My artistic path concerns the attempt to let Murano glass jewels which are tied to the thousand-year-old history of decoration since forever, to have a new contemporaneity.
Among the numerous glass-working techniques, I've chosen the blowpipe technique because it's based upon instant actions, and it requires precision and ability of gestures that make the glass even more versatile. This method allows improvisation to have much larger edges so I can better express my creativity.
Creativity is an urgency, a spontaneous gesture, a moment, a mood. I'm not in search of the perfect glass bead, but of an object that is in harmony with the environment surrounding it, coherent and close to my creative impulse.
Entry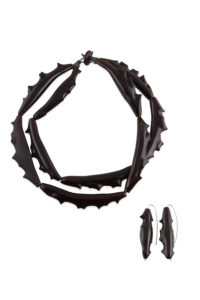 How to Enter the Challenge
Past Creativity Challenges