Summer 2023 Creativity Challenge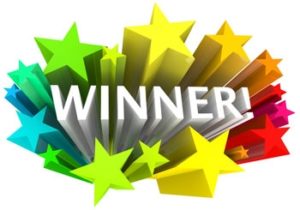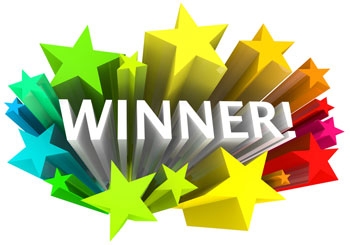 Congratulations to Cynthia Konow-Brownell!
What inspires you?  Glass is the ultimate medium to explore and we want to know what inspires you!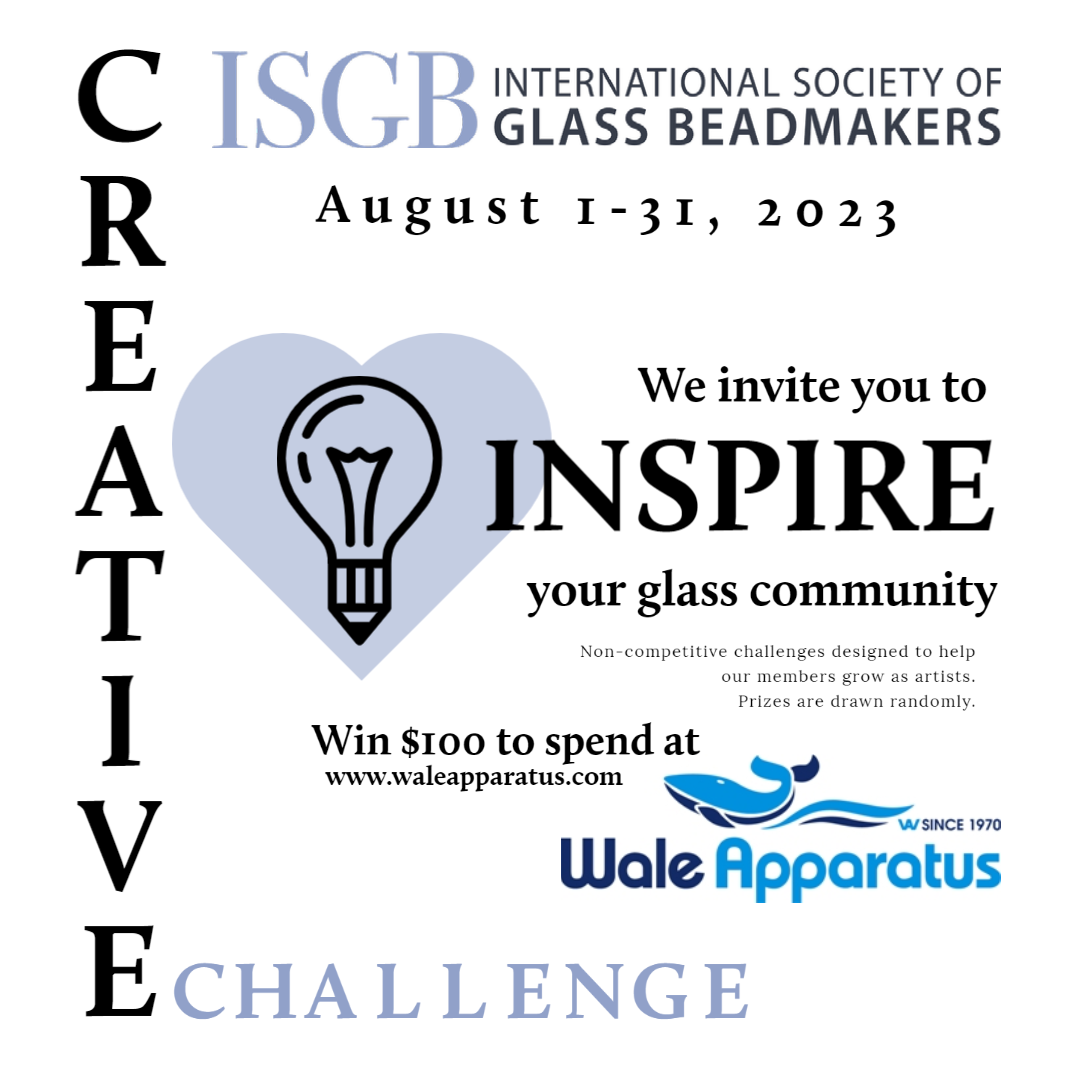 Artist Statement
White winged dove and the Sonoran Desert in Arizona.

The white winged dove comes to the Sonoran Desert in the heat of the summer. At that time the saguaro cactus had beautiful white flowers on the top as well as the arms. The primary purpose of the dove is to pollinate the flowers. After pollination, the red fruit develops. Each has several hundred seeds, which when dispersed and germinated by the Monsoon rains have the potential to grow into a Saguaro cactus.
This sculpture of a dove and flower stands on a rib of the Saguaro cactus.

Inspired by a workshop at the Melting Point in Sedona by Kim Fields and my new role at the Desert Botanical Garden as a docent giving tours.
Entry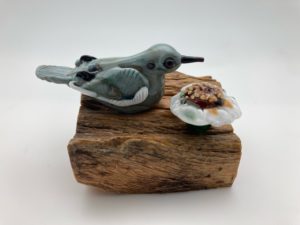 Artist Statement
My inspiration is the beginning of fall and the beautiful changes that happen in nature. The acorns and oak leaves are made of soft glass on copper wires with acorn caps that were collected last fall. 
Entry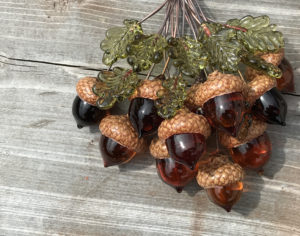 Artist Statement
I have been inspired lately by Bullseye glass. I started using it again recently after taking an online class from Stephanie Sersich. I love the color palette and have been trying different combinations. These beads have an opalescent base.
Entry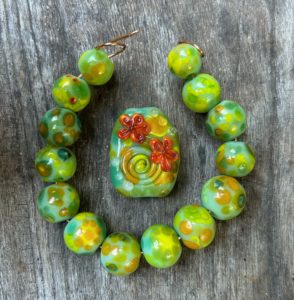 Artist Statement
This bead was part of my exploration into Reichenbach shards on silver reactive glass.  The inspiration for the design is based on Islamic manuscript illuminations in the collection of the Metropolitan Museum of Art.
Enjoy!
Entry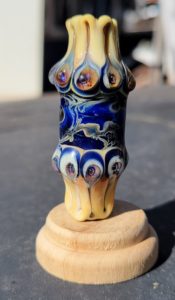 Artist Statement
The spark behind this bead's creation was my quest to transform surplus glass scraps and those leftover stringer rods into something truly special. The idea of discarding these glass pieces felt wasteful, prompting me to unlock a creative solution: crafting striking focal beads from these very leftovers. Others also call these "end of day" beads.
The creative process for these beads is refreshingly unscripted, guided by the instinctive pairing of glass pieces and colors that resonate together. Occasionally, I introduce a touch of sparkle with a gold aventurine stringer or weave in the white & clear twist stringers. In this particular bead, my focus honed in on infusing silver foil and utilizing a clear glass that weaves a spellbinding tapestry of dual-toned metallic aesthetics.
What makes these beads truly fascinating is the element of serendipity in their formation. Their charm lies in the unpredictability of the creative dance, resulting in each piece emerging as a delightful testament to the magic that arises when imagination and glass meets chance.
Entry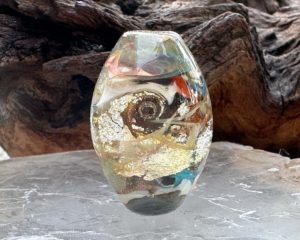 Artist Statement
Lately I have been enjoying making these lil crabs/critters for BOC! Our ISGB chapter, Fireflies, will have a BOC event soon and I figured the public would get a kick out of them too.
Entry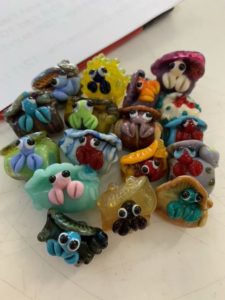 Artist Statement
My inspiration this month has been Challenges. The first is a Virginia Firebirds challenge based on Jackson Pollock's painting entitled "Male and Female". I made several beads inspired by this theme, two are pictured here.
The other challenge was from Beginning Lampwork Fun Challenges on Headpin Ornaments. I made leaves, flowers & seashells.
I used soft glass for all of these.
Entry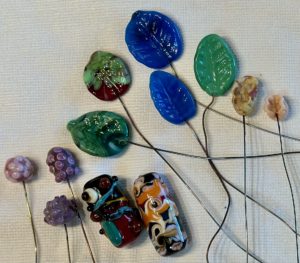 Artist Statement
I like to challenge myself using leftover glass from other projects to make something beautiful. I've been playing with pink filigrana that I brought home from Alexx's scrap pile in Thailand. The more I play with it, the more it seems to be speaking to me.
This bead started as a clear center base bead with both ends in light ivory. After annealing the shocky filigrana, I used it to make organic movements. I used mashers to flatten the bead into a 20mm thickness. Then I added raised dots with reducing Double Helix scraps from my bench. The bead was annealed and cleaned with a diamond reamer tip with my Dremel tool. The overall measurements of the bead are 40mm x 30mm x 20mm.
Entry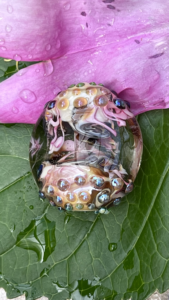 Artist Statement
Item title: Murrini eagle ray
My artistic inspiration often comes from the ocean. I am continually amazed by the fantastic forms and patterns in the natural world. This eagle ray sculpture was also inspired by my recent experience at the Penland School of Craft in North Carolina, where I studied new ways to add patterns to flameworked glass art. In this case, I created and combined several styles of murrini to create the ray's wing pattern.
Entry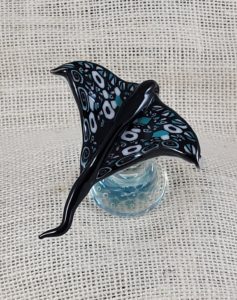 Artist Statement
My inspiration is Nature, Mother Earth and all the beauty she brings us. I always try to look past the dark look at all the joy our planet brings, from the flowers in my own yard to the deep blue sea.
Entry